AVATAVA Web Hosting Plans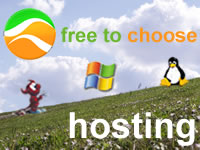 When you order a new hosting account with AVATAVA you'll get great support, no surprises, no hidden fees, and a fair deal from a company that has been in the hosting business longer than just about everyone.
We have simplified down to two basic plans, with no nickle and dime fees. Which plan is right for you? If you need SSL with a dedicated IP address, or anonymous FTP access then choose our Corporate plan. If you don't need SSL, then go with the Budget Plan. You can always upgrade from Budget to Corporate at anytime from within the hosting control panel.
Compare Hosting Accounts
Need help deciding which account is right for you? Ask our web site specialists at +1-888-551-6879 Toll-Free.
No Setup Fees, Instant Setup, and a 30 day Guarantee.
Email Accounts
Multiple Domains
Storage Space
Data Transfer
Dedicated IP
SSL (Secure Site)
Mailing Lists
Email Administration
IMAP/POP Accounts
E-mail Aliases
Control Panel
Web Statistics
cgi-bin
Web Site FTP
Virus and Spam Filtering
PHP
MySQL Databases
DSN
Access Databases
ASP
Autoresponder
PERL
Python
Server Side Includes (SSI)
File Manager
URL Redirections
Server Aliases
Online Invoice & Billing
Web Protect
30 day Guarantee
Budget Unix
$8.37per month
12
✓
325 MB
10 GB
Shared
—
✓
✓
✓
unlimited
✓
✓
✓
✓
✓
✓
2
—
—
—
✓
✓
✓
✓
✓
✓
✓
✓
✓
✓
Budget Windows
$13.97per month
200
✓
325 MB
10 GB
Shared
—
✓
✓
✓
unlimited
✓
✓
✓
✓
✓
✓
2
2
✓
✓
✓
✓
✓
✓
✓
✓
✓
✓
✓
✓
Corporate Unix
$13.97per month
50
✓
1125 MB
60 GB
1 Free
✓
✓
✓
✓
unlimited
✓
✓
✓
✓
✓
✓
unlimited
—
—
—
✓
✓
✓
✓
✓
✓
✓
✓
✓
✓
Corporate Windows
$20.97per month
50
✓
1125 MB
60 GB
1 Free
✓
✓
✓
✓
unlimited
✓
✓
✓
✓
✓
✓
unlimited
unlimited
✓
✓
✓
✓
✓
✓
✓
✓
✓
✓
✓
✓