Most Recent:
Support Options:
Community Links:
Legal Stuff
Home » Web Hosting »

Hosting Plans
Web Hosting Plans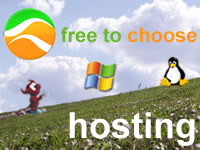 When you order a new hosting account with AVATAVA you'll get great support, no surprises, no hidden fees, and a fair deal from a company that has been in the hosting business longer than just about everyone.

If you've never built a site before, we recommend trying our Free Business Web Site Builder system.

We have simplified down to two basic plans, with no nickle and dime fees. Which plan is right for you? If you are need SSL with a dedicated IP address, or anonymous FTP access then choose the Corporate plan. If you don't need SSL, then go with the Budget Plan. You can always upgrade from Budget to Corporate at anytime from within the hosting control panel.
Compare Hosting Accounts
Need help deciding which account is right for you? Ask our web site specialists at 1-888-551-6879 Toll-Free, or click on Live Help to get Sales Help.
No Setup Fees, Instant Setup, FREE web page builder and a 30 day Money Back Guarantee.
Account Login:
Log in to your AVATAVA accounts here
Web Hosting
Domain Names
Articles
30 Day Guarantee
We are absolutely positive you will love our web hosting services or your money back.