Most Recent:
Support Options:
Community Links:
Legal Stuff
Home » Services » Hosted VoIP PBX » Our Phones »

Polycom VVX 500
Polycom VVX500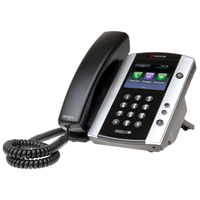 Polycom® VVX® 500 Performance Business Media Phone
A performance business media phone with the world's best high definition audio, video playback, and business application integration, the Polycom VVX phone delivers best-in-class desktop productivity and unified communications (UC) for the knowledge worker and busy professional.
Improve knowledge-worker productivity and gain access to business information at a glance.
Reduce training time through superior calling features in a sleek design and simple-to-use phoneLeverage previous IT infrastructure investments
Reduce costs through simple deployment and easy administration, upgrades and maintenanceProvides expandability and investment protection with USB ports for optional accessories and hardware upgrades
Offers easy integration with third - party UC and productivity applications
Features and Benefits
Intuitive, gesture-based color, multitouch interface for voice calls and applications
Flexible twelve line appearances, (one or more line keys can be assigned for each line extension) on this feature-rich phone with Polycom HD Voice™ technology—crystal clear voice quality and advanced audio processing
Simple, flexible, secure provisioning options
API for integration with business applications
Productivity suite with Polycom Desktop Connector to PCs; keyboard and mouse sharing
Microsoft® Exchange® calendar integration
Visual conference management with local voice call recording and corporate directory access
Personalized information at a glance - Polycom My Info Portal
Built-in Web application and Digital Photo Frame
Account Login:
Log in to your AVATAVA accounts here
Web Hosting
Domain Names
Articles
30 Day Guarantee
We are absolutely positive you will love our web hosting services or your money back.