Most Recent:
Support Options:
Community Links:
Legal Stuff
Home » Services » Hosted VoIP PBX » Our Phones »

Polycom 670
Polycom 670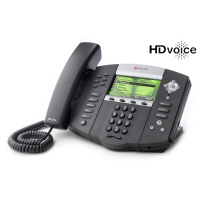 The Color Display Polycom IP-670 is a desktop phone which delivers a rich voice, visual, and applications experience.
The large, vibrant color display for easier viewing and navigation. Revolutionary voice quality with Polycom HD Voice™ technology and integrated Gigabit Ethernet (GigE) switch to enable bandwidth-intensive applications. Six lines in stand-alone mode and up to 34 lines with Polycom SoundPoint IP Color Expansion Modules. A visually improved platform to enable a high level of integration with productivity-enhancing applications and business processes. Built-in USB port to support applications.

Features and Benefits
Backlit 320 x 160 pixel color display delivers a rich visual experience
Unparalleled voice quality and clarity that makes every call efficient and productive
Integrated GigE support
A color interface platform for accessing applications
Advanced SIP functionality, including shared lines, busy lamp field, and presence.
Account Login:
Log in to your AVATAVA accounts here
Web Hosting
Domain Names
Articles
30 Day Guarantee
We are absolutely positive you will love our web hosting services or your money back.