Most Recent:
Support Options:
Community Links:
Legal Stuff
Home » Services » Hosted VoIP PBX » Our Phones »

Polycom 6000 Conference Phone
Conference Phone -- IP-6000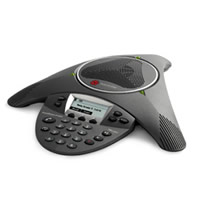 The SoundStation® IP-6000 – Next Generation IP Conference Phone. Enjoy clearer, more productive business conversations using this IP conference phone specifically designed for small to midsize rooms. Polycom HD Voice™ technology gives outstanding clarity. This VoIP conference phone 12-foot (4-meter) microphone pickup range.
Breakthrough price/performanceInteroperable with leading SIP-based IP PBX and Softswitch platforms. Integrated Power over Ethernet (PoE)
Features and Benefits
Polycom HD Voice technology for high-fidelity calls at up to 14 kHz – An industry first, an IP conference phone that sounds as natural as being therePatented Polycom Acoustic Clarity™ technology – delivering the best IP conference phone experience without compromise12-foot (4-meter) microphone pickup – ideal for small to midsize conference rooms. You may add even greater range with optional expansion microphones.
Strong, robust SIP software – leveraging the most advanced SIP endpoint software in the industry, with advanced call handing, security, and provisioning featuresRobust VoIP interoperability – Compatible with a broad array of SIP call platforms to maximize voice quality and feature availability while simplifying management and administration. The IP-6000 is designed to resist interference from mobile phones and other wireless devices while delivering clear voice conferencing without distractions.
High-resolution display – enables robust call information and multi-language support.
Account Login:
Log in to your AVATAVA accounts here
Web Hosting
Domain Names
Articles
30 Day Guarantee
We are absolutely positive you will love our web hosting services or your money back.