Most Recent:
Support Options:
Community Links:
Legal Stuff
Home » Services » Hosted VoIP PBX » Our Phones »

Polycom 550
Polycom 550
Polycom® SoundPoint® IP 550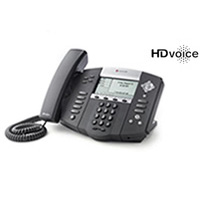 Cutting-edge SIP feature set meets Polycom® HD Voice™ technology. Four-line manager's phone, Revolutionary voice quality with Polycom HD Voice technology. Cutting-edge SIP featuresBacklit, easy-to-read LCD with support of Asian characters Interoperability with leading SIP-based IP PBX and Softswitch platforms.

Features and Benefits
Four lines
Polycom HD Voice technology, including support of G.722 wideband codec, Acoustic Clarity Technology 2, and systems design optimized for Polycom HD Voice technology
Advanced functionality, including shared lines, busy lamp field, presence, and XHTML applicationBacklit 320 x 160-pixel grayscale graphical LCD
Integrated IEEE 802.3af Power over Ethernet (PoE) support
Account Login:
Log in to your AVATAVA accounts here
Web Hosting
Domain Names
Articles
30 Day Guarantee
We are absolutely positive you will love our web hosting services or your money back.