Most Recent:
Support Options:
Community Links:
Legal Stuff
Home » Voice Services » Hosted VoIP PBX »

Hosted VoIP PBX Benefits
Hosted VoIP PBX Benefits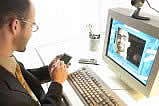 Hosted VoIP PBX benefits from network integration by placing long distance, local calls and the internet together on one network removing the need to employ a dedicated IT staff. Hosted VoIP allows small businesses to have all of the features and services big businesses have by rolling the service into one hosted product which is easy for a small or medium sized business to manage using a web based hosted PBX control panel.
Many companies like the VoIP PBX system because it is easy to use. If desired, each employee can each have their own number making it easy for callers to reach the person they choose. One might also eliminate the need for a receptionist on site at all times, as directories (auto-attendants) can easily be set up for and used by customers. Also most extensions within the company can be directly reached with a short internal number, just like a traditional PBX.
You also have the flexibility of getting an outside line for each person in the office but you can save a big chunk of change using our hosted IP PBX systems with an automated attendant to direct calls.
With a VoIP PBX system you get features and capabilities that were once only available with larger systems. Explore our PBX capabilities below.
Business VoIP Quotes
Businesses are saving big on their monthly phone bills by switching to VoIP phone services. Receive a free, no obligation, VoIP quote or call us at 1-888-551-6879
Account Login:
Log in to your AVATAVA accounts here
Web Hosting
Domain Names
Articles
30 Day Guarantee
We are absolutely positive you will love our web hosting services or your money back.