Most Recent:
Support Options:
Community Links:
Legal Stuff
Home » Web Hosting »

Free Business Website Builder
Free Business Website Builder from AVATAVA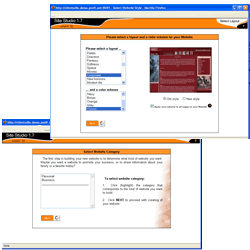 If you can surf the web, you can build your own professional looking website today.
Free with every hosting plan is our web browser based solution for site building- so easy to use that you don't need to know anything about FTP, HTML, or imaging software.
A Powerful and Fast solution for building sites- simple to change just about any aspect of your site with Site Studio in only seconds.
Site Studio Demo

Here's a look at how Site Studio, included with every hosting plan works.
The following demonstration is available for you to experience first hand how easy it is to make your own web site today.
N.B. If you follow the demo or template links and only see a blank page, make sure port 8081 isn't closed by your local firewall. The demo uses port 8081 and all demo sites are deleted around 03:00 EST daily.
Over 70 Free templates

No Software to buy or learn- you have over 70 designs presently available with Site Studio, each with multiple layouts and color schemes- more added on a regular basis.
Simply choose your template style, then choose your layout and colors, and add your business our personal content- that's all it takes. Take a look at the free professionally made templates available for you to use.
Site Studio Features
Included Features
Step-by-step guided with simple choices regarding color, style and images.
No software to buy, no code to learn.
No need to use FTP or Telnet
Content and Design Separation- you can completely change the look and feel in six simple clicks, without retyping your content.
Built-in color combinations- look great on any layout, plus any color can be changed
Over 70 Layouts created in HTML with tags for generating images
On-the-fly image maker- creates graphics dynamically- change color combinations and images are automatically recreated.
Upload images from your browser- Use your own images- create an online photo album or insert a picture and make it a seamless part of your logo.
Variety of pages- make as many pages as you want. You decide what pages belong on your site.
One-click publishing- your website is published with one easy click- and you may change it as often as you wish.
Information is saved as it is entered- if you log out and come back, you return to where you left off.
Complete control- make unique and attractive web sites with access to the HTML if you want to.
Full screen HTML Rich Editor- for Windows IE users- work with formatting, styles, tables, bullets and more. Copy and paste complex tables from IE or any Office applications.
Included FREE with all AVATAVA hosting plans.
Account Login:
Log in to your AVATAVA accounts here
Web Hosting
Domain Names
Articles
30 Day Guarantee
We are absolutely positive you will love our web hosting services or your money back.