Most Recent:
Support Options:
Community Links:
Legal Stuff
Home » Services » Hosted VoIP PBX » Our Phones » Accessories » VoIP ATA Devices »

Cisco SPA3102
SPA3102 Voice Gateway
Analog Calls Routed Over the Internet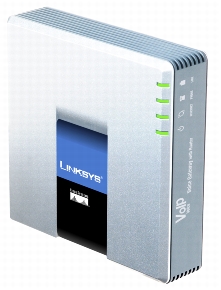 Download the SPA3102 Datasheet

The SPA3102 Voice Gateway allows automatic routing of local calls from mobile phones and land lines to Voice over Internet Protocol (VoIP) service providers, and vice versa. By first calling the local number on the SPA3102, you can reduce or eliminate long-distance charges altogether.
Simply connect your standard telephones and fax machines to an IP-based data network, with the additional benefit of an integrated connection for legacy telephone network "hop-on, hop-off" applications. SPA3102 users can extend the use of their broadband phone service by automatically routing local calls from mobile phones and landlines to voice over IP (VoIP) service providers, and vice versa. If power is lost to the unit or Internet service is down, calls can be redirected to a traditional carrier via the FXO interface.
A user calling from a mobile phone or landline will be able to reduce and even eliminate international and long-distance telephone charges by first calling the Cisco SPA3102 via a local telephone number. The advanced authentication and call-routing intelligence programmed into the SPA3102 will route the call via the Internet to the end destination. In addition, when using a SPA3102 at the far end, VoIP calls placed to that location can be either answered or further processed and routed on as local calls to any legacy land line or mobile phone.

If power goes out or Internet service is lost, calls can be safely redirected to a traditional carrier via the standard analog interface.

Additional features of the Cisco SPA3102 include:
One RJ-11 POTS (Plain Old Telephone Service) FXS port to connect an existing analog phone or fax machine
One PSTN FXO port to connect to a Telco or PBX circuit
Two 100BaseT RJ-45 Ethernet interfaces to connect to a home or office LAN, and an Ethernet connection to a broadband modem or router
FXS and FXO lines that can be independently configured
Secure encryption-based methods for communication, provisioning, and servicing
Account Login:
Log in to your AVATAVA accounts here
Web Hosting
Domain Names
Articles
30 Day Guarantee
We are absolutely positive you will love our web hosting services or your money back.