Most Recent:
Support Options:
Community Links:
Legal Stuff
Home » Services » Hosted VoIP PBX » Our Phones » Accessories » VoIP ATA Devices »

Cisco SPA2102
SPA2102 2 line VoIP Phone Adapter
Feature-Rich Voice Adapter for VoIP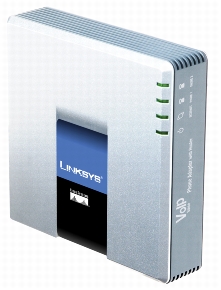 Cisco SPA2102 Datasheet Download
Highlights


Enables high-quality, feature-rich voice-over-IP service through your broadband Internet connection
Two standard phone ports for use with analog telephones or fax machines, with independent phone numbers
High-quality, clear-sounding voice service using advanced quality-of-service capability
Compatible with common telephone features, such as caller ID, call waiting, call forwarding, and voicemail


SPA2102 Overview
The Cisco® SPA2102 Phone Adapter with Router connects a standard telephone or fax machine to an IP-based data network. Residential and business users can have traditional and enhanced phone and communication services using a standard broadband connection to the Internet.
The Cisco SPA2102 features two basic telephone ports to connect existing analog phones or fax machines to a private branch exchange (PBX) system. It also includes two 100BASE-T RJ-45 Ethernet interfaces to connect to a home or office LAN, as well as an Ethernet connection to connect a broadband modem or router (WAN). Each phone line can be configured independently via software controlled by the service provider or the end user. With the SPA2102, users are able to protect and extend their investment in their existing analog telephones, conference speakerphones, and fax machines, as well as control their migration to IP with an extremely affordable, reliable solution.

Installed by the end user and remotely provisioned, configured, and maintained by the service provider, each Cisco SPA2102 converts voice traffic into data packets for transmission over an IP network. Compact in design, the SPA2102 can be used in consumer and business VoIP service offerings, including full-featured IP Centrex environments. The SPA2102 uses international standards for voice and data networking for reliable operation.

Features
Toll-quality voice and carrier-grade feature support: The Cisco SPA2102 delivers clear, high-quality voice communication under a variety of network conditions. Excellent voice quality in challenging, changeable IP network environments is made possible via the advanced implementation of standard voice coding algorithms. The SPA2102 is interoperable with common telephony equipment such as fax, voicemail, PBX/KTS, and interactive voice response systems.
The Cisco SPA2102 can be remotely provisioned and supports dynamic, in-service software upgrades. A highly secure profile upload saves providers the time and expense of managing and preconfiguring or reconfiguring customer premises equipment (CPE) for deployment.
The Cisco SPA2102 supports highly secure, encryption-based methods for communication, provisioning, and servicing.
Account Login:
Log in to your AVATAVA accounts here
Web Hosting
Domain Names
Articles
30 Day Guarantee
We are absolutely positive you will love our web hosting services or your money back.