Most Recent:
Support Options:
Community Links:
Legal Stuff
Home »

Why have you not upgraded to hosted PBX?
Why have you not upgraded to hosted PBX?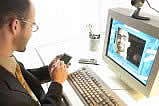 I spoke with one client who told me they just finished paying for their PBX and expected to get a few more years out of it. "How old is it now?" I asked. The client was Surprised to find it was going on six years since the old PBX was installed. I asked him how long he had his current cell phone and he agreed, it was time to look at what a new Hosted PBX system could do.
Even if you have moved to Hosted PBX, if your handsets are more than 36 months old, you may want to look at what improvements can be had by new handset equipment.
Unlike a traditional premise-based PBX, in most cases all you need to do to keep up with changes in Hosted PBX is upgrade your handsets-- even then, it is not usually needed to replace all handsets at once to try out the latest improvements. Older, less capable handsets can be repurposed while moving the lowest feature/oldest handsets out of service or kept as spares.
Why bother upgrading your old PBX?
In the last several decades, we've seen PBX stay relatively static. The expense and disruption to upgrade a system hardly outweighed the benefits. With premise-based PBX, upgrading once every ten years or so made a good deal of sense- especially given the minor incremental changes in premise systems.
Internet Protocol (IP) telephony has allowed an infinitely upgradable PBX system by moving the PBX out of the office and into the cloud. The PBX itself is then handled by the service provider and service upgrades become a matter of configuration in software. VoIP Handsets then now become the denominator of features-- and the changes in performance since our first VoIP PBX deployments in 2003 are radical. The simple (Session Initiation Protocol) SIP phones of yesterday with hard coded feature sets are now replaced with devices able to download software updates, feature changes, and improvements in-situ on your schedule.
Myth: Upgrading my Phone System is Expensive
It is far more likely your loss of productivity, missed calls, and lost opportunities due to an antiquated system will be much more expensive. A Hosted PBX system can help you direct calls to where your employees are at anytime, anywhere- even to their ubiquitous mobile devices. If you haven't seen a recent demonstration of Hosted PBX, you could be underestimating the positive impact the latest VoIP PBX systems can have on your business.
Fact: Hosted PBX is "the best phone system you'll never buy"
With Hosted PBX- the "system" is a service- this means your service provider rolls out updates with no IT staff required on your end. You'll never "buy" the system because it is included in the service itself. This means you'll always have the latest features, updates, and highest reliability.
What do you need to buy then? SIP handsets, with capable brand name multi-line units starting at well under 200 dollars each new. If your budget is really tight, recently outdated models and even refurbished or used handsets are often available at a huge savings over the newest models. If it's been awhile since you considered upgrading that old PBX heating up your closet over to a hosted PBX system- have another look. The products and capabilities have improved greatly during the first ten years since the first Hosted IP-PBX systems were deployed. You'll be pleasantly surprised.
Is a Cloud Based PBX system a good choice for your business? Contact AVATAVA for a no cost PBX consultation.
About the author: William Laakkonen is a consultant for AVATAVA which first offered cloud services worldwide in 2000. Among many solutions, AVATAVA offer hosted VoIP solutions for small and medium enterprises across the US.
Account Login:
Log in to your AVATAVA accounts here
Web Hosting
Domain Names
Articles
30 Day Guarantee
We are absolutely positive you will love our web hosting services or your money back.